21st June 1975 to 24th March 1979
Edit
Written by Angus P. Allan
Drawn by Martin Asbury
---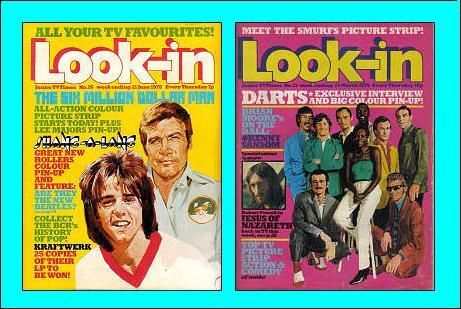 Started 21st June 1975 - No.26, (Top Left) replacing Kung Fu.
Ended 24th March 1979 - No.13, (Top Right) replaced by Dick Turpin.
"Zero Hour"

No.26 – 21/6/75 to ?
Steve must foil an elaborate plan to steal a nuclear warhead from a train.
""

? to No.33 – 9/8/75
?
"Duped"

No.34 – 16/8/75 to No.41 – 4/10/75
A Russian agent trains a troop of American agents, and tricks them into attacking a missile station, under the assumed guise of the secret service.
"Primed"

No.42 – 11/10/75 to No.49 – 29/11/75
Steve is hypnotised into attempting to assassinate the Russian president.
"Mountain Mayhem"

No.50 – 5/12/75 to No.51 - 13/12/75>>
Undercover in the Swiss Alps, Steve is assigned to protect the Vice-President, but after a failed attempt on Steve's life, it becomes apparent, that his cover may be blown…
"The Toymaker"

<<No.16 – 10/4/76 to No.22- 22/5/76
In the first of two appearances in Look-in, 'The Toymaker' Lazlo Cernatz creates toys that on a specific day/time will hypnotise their child owners into becoming Cernatz' slaves.
"The Defection"

<<No.28 – 3/7/76 to No.32 – 31/7/76
Steve is assigned to help Professor Malkof escape Eastern Europe to the west.
"Assault on Guadano"

No.33 - 7/8/76 to No.39 - 18/9/76
When a base is discovered on a remote island, an offensive is given the go ahead, with Steve Austin leading the American contingent.
"Cell Mates"

No.40 – 25/9/76 to No.45 – 16/10/76>>
Steve becomes a prison inmate to try to bring one of the prisoners out into the open. The prisoner is a spy who knows the whereabouts of some stolen microfilm.

(All Colour)

(Story titles are made up)