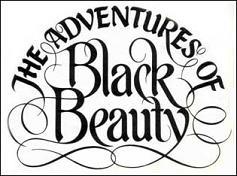 Follyfoot was always going to be a hard act to follow when it ended, but ITV found another winning formula by utilising the horse theme in another series. The result was The Adventures Of Black Beauty.
Based on the famous book by Anna Sewell, the series followed the adventures of Vicky played by Judi Bowker, and in later series Jenny (Stacy Dorning), who lived on a farm with her father Dr. James Gordon (William Lucas), and her brother Kevin (Roderick Shaw). They have a useful ally in Black Beauty a horse who lives on the farm, who is like no other horse. seemingly more intelligent, and able to help the children out of some of the tight spots they seem to find themselves in all the time. Beauty seems to have an affinity with Vicky (& Jenny) more than any other character, and the bond between her and Beauty is a running theme.
On hand to make sure the children were well stoked up for their adventures, was Dr. Gordon's housekeeper Amy played by Charlotte Mitchell.
During the course of the three years it was on screen, they would meet other children in the area, who also got involved in their adventures, amongst the more regular kids were Ned (Stephen Garlick) and Albert (Tony Maiden).
One of the most memorable things about Black Beauty was the amazing theme tune, a majestic orchestral piece called 'Galloping Home' written by Denis King.
The series was briefly revived as 'The New Adventures Of Black Beauty' in the early 90's, when a New Zealand TV company purchased the rights to the idea. In this Dr. Gordon has moved to New Zealand. Jenny played again by Stacy Dorning, now has a daughter called Vicky who befriends a new horse, who seems to have the same talents as the late lamented Beauty, so they give it the same name.
When Beauty joined Look-in it was really winding down as a series on TV, the final series had ended, so it breathed new life into the story for fans of the series.
The strip was, like Follyfoot amass with horses, so it was quite seamless changeover, and as a reader I never really missed Follyfoot, the stories were fast paced and great to read, the artwork, in the main by Mike Noble, but later Leslie Branton took the pencil to continue the strip in black and white, a very high standard maintained throuout the series. Yet another great Look-in strip, up there with the best.