Jurassic World: Dominion Dominates Fandom Wikis - The Loop
Play Sound
Sapphire and Steel have been assigned!....part of the opening credits to this interesting series, assigned pointing to the fact that Sapphire and Steel are 'time agents' sent to sort out disruptions and disturbances in the very fabric of time. These occurrences manifest themselves in any number of ways, and almost always have a 'trigger', be it an object, a painting or even a song.
Steel (David McCallum) is the brains of the outfit often figuring out what has happened, and suggesting ways in which the pair can fight off whatever evil is lurking. Sapphire (Joanna Lumley), is the more powerful and usually sees off the enemy, by using her powers, this is usually shown by her eyes glowing a luminescent blue colour, before something amazing happens to quash the evil.
Sapphire And Steel aren't human. They are as their name suggests, elements, and it is never exactly clear where they come from. There are other elements, but although they are all named at the start of the show, (Gold, Lead, Copper, Jet, Diamond, Radium, Sapphire, Silver and Steel) the only other elements ever seen are Lead played in 3 episodes by Val Pringle and Silver played in 8 episodes by David Collings.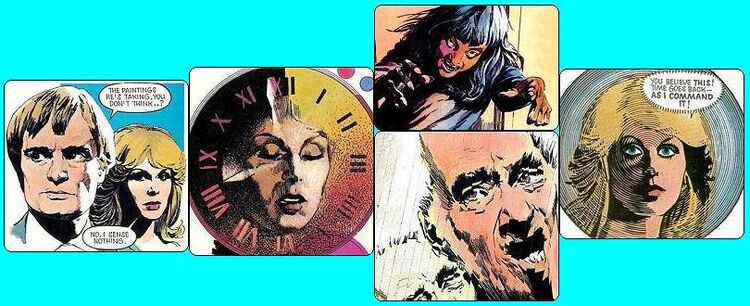 The series was written by P.J. Hammond, who has gone on to write scripts for numerous series over the years, including scripts for the recent Dr. Who spin-off 'Torchwood'.
McCallum and Lumley were interesting choices for the title roles, having another connection between them, with both starring in cult spy roles before Sapphire And Steel. David as Illya Kuryakin in the 'Man From U.N.C.L.E.' series and Joanna as the high-kicking Purdey in 'The New Avengers'.
The strip was every bit as good as the series, the writing was superb, and Arthur Ranson used every bit of artistic licence, to bring the feel of the series onto the page, using some very clever artistic effects. One of the best drawn of all the strips.
The strip was with us a good while, and deservedly so, it appeared in two runs, taking a break for The Further Adventures Of Oliver Twist, before eventually taking it's leave of the comic to be replaced by Smuggler.