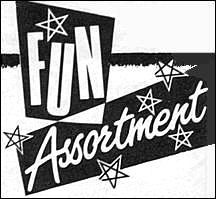 replacing ?
replaced by ?

When the format of Look-in changed in 1981, there was a definite slant towards a younger audience, and a move towards being more of a comic, and less of a magazine. One of these changes was the dropping of Screen Quiz, which was more of a teen thing being a Q&A slot.
Fun Assortment, its replacement was more activity based, a bit like a kid's book. Offering a mix of puzzles, and elements from the original quiz pages, but in a much more visual way, for example instead of asking which group so and so sang for, a set of pictures of singers would be shown with various group names, the kid's would be asked to match them up...you get the idea.
There would be things like small crosswords, and mazes, and later on my particular favorite, a picture (usually of an animal, mainly prehistoric) that would have a continuous line running through it for you to find. Another good one was a large drawing with loads of stuff in it, the reader would have to find objects beginning with a certain letter.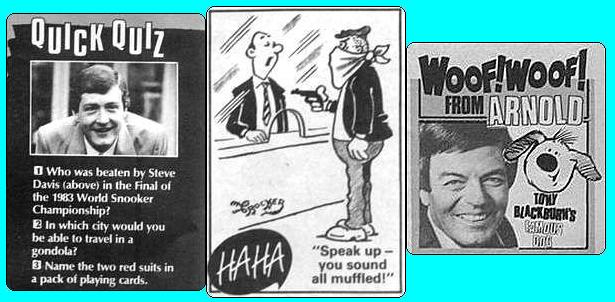 Most of the puzzles were very visual, things like, negative photos of stars, anagrams, word searches and the like.
Taking over from Smile with Stewpot there were jokes and cartoon gags. A quiz did appear too from time to time, but this just took up a nook in a corner of the page.
A little later a short strip based on Arnold the dog from Tony Blackburn's radio show was added, it was called Woof! Woof! From Arnold. It also became a home for the competitions too.
Fun Assortment was pretty much a staple in the 80's version of Look-in, before becoming simply 'Puzzles' in the 90's, but like a lot of things I really missed Screen Quiz, but Fun Assortment was....fun....for a while anyway.