Jurassic World: Dominion Dominates Fandom Wikis - The Loop
Play Sound
24th November 1979 to 30th May 1981
[
]
Written by Angus P. Allan
Drawn by Jim Baikie (JB) and Bill Titcombe (BT)
---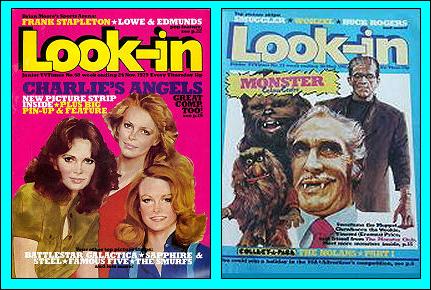 Started 24th November 1979 - No.48 (Top Left), replacing Bionic Action.
Ended 30th May 1981 - No.23 (Top Right), replaced by ChiPs (2nd Run).
"Angels in Florida"

24/11/79 - No.48 to 12/1/80 - No.3
The Angels are in Florida to investigate an arms running outfit, that is getting weapons out to the Caribbean.
(JB) (B&W)
"Rootin' Tootin' Angels"

19/1/80 - No.4 to 16/2/80 - No.8
When Colonel 'Curly Bill' Carson's wild west show is plagued by a series of 'accidents', the Angels join the show to investigate.
(JB) (B&W)
"The Dealer"

23/2/80 - No.9 to 29/3/80 - No.14
The Angels try to bring down art dealer Araz Shimurian who is in reality a drug smuggler.
(JB) (B&W)
"Patriot Angels"

5/4/80 - No.15 to 7/6/80 - No.24
During a re-enactment of a civil war battle, one of the participants - a friend of Tiffany's - is shot with a real bullet.
(JB) (B&W)
"The Discovery Trail"

14/6/80 - No.25 to 12/7/80 - No.29
When Professor Newhart discovers a dinosaur graveyard, his assisstant is murdered, fearing his rival Dr. Constantine may be behind the killing, he hires the Angels to investigate.
(JB) (B&W)
"Angelic Bodyguards"

19/7/80 - No.30 to 11/10/80 - No.42
The Angels become bodyguards to the son of an ex-dictator, but don't realise he is masterminding the fake plot to assassinate him.
(JB) (Colour)
"In Love With an Angel"

25/10/80 - No.43 to 1/11/80 - No.44 >>
Whilst on holiday in Rome, Kelly's bag is stolen, but is returned to her later minus her money ....plus a letter from a secret admirer.
(JB) (Colour)
"Angels of the Deep"

<< 29/11/80 - No.49 to 10/1/81 - No.3
Kelly and Chris infiltrate a group of divers, who are suspected of diving for illegal US treasure.
(JB) (B&W)
"Deadly Double"

17/1/81 - No.4 to 14/2/81 - No.8
Bosley is replaced by a double, in an attempt to steal a top secret weapon.
(JB) (B&W)
"The Secret Admirer"

21/2/81 - No.9 to 7/3/81 - No.11
Kelly starts receiving lavish gifts, then is intrigued when the admirer sends a limousine to pick her up...
(JB) (B&W)
"Fighting Angels"

11/4/81 - No.16 to 30/5/81 - No.23
The Angels pose as freedom fighters in an elaborate ruse to bring the boss of a multi-billion dollar robbery into the open.
(BT) (B&W)

(All titles are made up)
8.0
[
]